Creating Expressions of Gratitude & Celebration
STORY OF LUCITE - BUFFING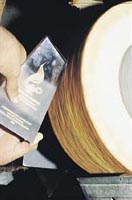 Polishing is the next step in the process. It is also done by hand. This brings out the luster and high gloss of the Lucite not previously seen during production. A rough buffing is administered to remove all sanding lines.
A final polishing brings out the bright crystal-like finish.
The production of the Lucite embedment is completed.




© 2000 Universal Specialties
Webpage design by Allan Grant, IQ Corp: www.iq-corp.com